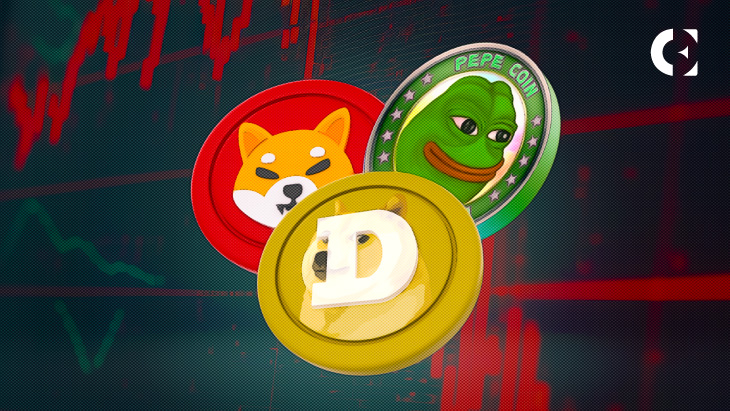 Hype Around Meme Coins May Be Dwindling as Many Dip into the Red
The weekly performances of Dogecoin (DOGE) and Shiba Inu (SHIB) remained in the red despite 24-hour gains.
Meanwhile, PEPE's hype may be approaching its end as the crypto was down 4.89% at press time.
The total market cap for meme coins was around $17.47 billion at press time according to CoinMarketCap, after it increased 0.89% in the previous 24 hours. During this period, however, several meme coins saw their daily and weekly performances dip into the red. This could be an early indication of the meme coin hype in the crypto market coming to an end.
In conjunction with the recent losses realized by many meme coins, the total trading volume for the meme coin market had dwindled over the past 24 hours. As a result, the figure stood at $1,450,997,430, which was a 42.25% decrease in the last day.
The largest meme coin by market cap, Dogecoin (DOGE), was trading at $0.07298. Although this was the product of a 24-hour gain, its weekly performance was in the red at -6.88%. Next, Shiba Inu (SHIB), displayed similar price movement. It was also able to print a 24-hour gain, but was unable to recover from its negative weekly performance of -10.56%.
One meme coin that has been all the hype in the past week, Pepe (PEPE), seemed to be showing signs of its community's enthusiasm simmering to a halt. At press time, its price stood at $0.000001931. The crypto had also weakened against Bitcoin (BTC) and Ethereum (ETH) during this period by 1.10% and 0.90% respectively.
In addition, the crypto had printed a 24-hour loss of 4.89%. Nevertheless, the momentum of last week's hype was able to keep PEPE's weekly performance in the green at a remarkable +81.38%. This was also the best weekly performance by any project in the top 10 list of the biggest meme coins by market cap.
Disclaimer: The views and opinions, as well as all the information shared in this price analysis, are published in good faith. Readers must do their own research and due diligence. Any action taken by the reader is strictly at their own risk. Coin Edition and its affiliates will not be held liable for any direct or indirect damage or loss.